Support workers are unqualified Nurses or Social workers and they can work in a residential care home, domiciliary care, or out in the community.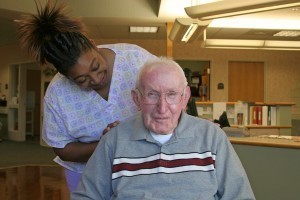 Their work is defined by a care plan.
A Care plan is developed after assessing the needs of the person being supported.
A care manager, social worker, Social Workers, GPs or Allied Health professionals (AHPS), and or other
key individuals such as family members would normally prepare the care plan.
Support workers are trained how to apply a care plan in their jobs and would normally work under the following set-ups:
Live-In Care services for elderly persons
This support is a flexible home help service designed for those who need some assistance to live well in their own homes.
Live-In Care services-younger People:
As well as supporting students/young people, we also work closely with parents and families. The service is also suited to those who live alone or with a partner and need care support.
Short/Hourly care visits
This is support where a person needs our carers to pop in for short visits like half an hour, once a week or make a number of daily visits, provide overnight care, or stay temporarily whilst a family carer takes a break.
Re-enablement Care services
This support is normally after a spell in hospital and a person may be experiencing difficulties living independently at home.
Typical duties of a support worker would include:
Assisting, encouraging and enabling
Help with shopping errands
collecting medicine and assisting in medication per prescriptions and time schedules.
with cooking, food and refreshments
mobility for the physically disabled
washing and dressing- support workers are normally not expected to give personal care
providing comradeship activities (within professional boundaries) to stimulate and engage so as to
address any loneliness that usually affect vulnerable persons.
monitoring individuals' health condition, including taking temperature, pulse, respiration and weight. This helps in the personalised care record keeping.
Support workers-Mental Health
Besides the above duties,those working in mental or learning disability may require further training in the control and management of violence as the environment may demand. These courses would typically cover these areas:
Introduction to Mental Health
Comprehending Mental Health Problems
Laws and policies concerning Mental Health
The Importance of Community Mental Health Teams
Treatments and Procedures
The Participation of the Service User
Final Assessment
Besides competitive pay rates,our support workers have access to Training,Occupation Health services and a DBS check at enhanced level.
You may also wish to visit our dedicated Page on Home care services and supported living.
why not join our team by taking the